Shakshuka is probably one of my most favorite middle eastern dish and today I'm going to share with you my recipe for the perfect Shakshuka. The best thing about Shaksuka is that it's easy to make and you can make it for breakfast, lunch or dinner with a side bread or Pita next to it.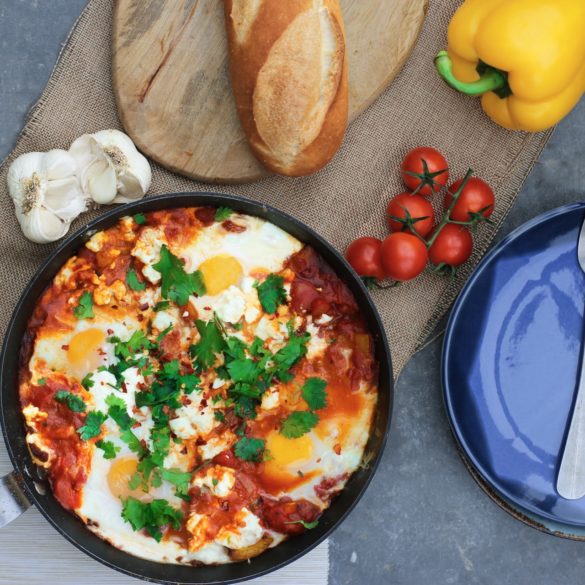 Ingredients
2 Table Spoons Olive Oil

1 Big Onion, chopped

1 Green Pepper, chopped

1 Sweet Pepper, chopped

10 Ripe Tomatoes, chopped

2 Garlic Cloves

3 Table Spoons Tomato Sauce

4 Eggs

1 Tea Spoon Cuminum

1 Tea Spoon Chilli Flakes (If you like it a bit spicy like I do)

1/2 Tea Spoon Sugar

Salt and Pepper, to taste
Instructions
Heat up a large and deep pan and add the olive oil in the pan.
Add the chopped onions and sauté for a couple of minutes until the onion is soft and golden.
Add the garilc cloves and continue to sauté  for a few minutes.
Add the peppers and saute until the peppers are a little soft.
Add the chopped tomatoes and the tomato sauce.
Add all the spices to the mix and correct the taste.
After everthing is mixed good crack the eggs on the top, one at a time and make a little space between each egg.
Keep the heat low and cover the pan. Allow it to cook for another 5-10 minutes, depends on how you like your eggs. I prefer to cook them good so I keep them a little bit more.
After all set and done garnish the shakshuka with a little parslay on the top if you wish to.
Serve it on a plate with some bread and tahini on the side.
Please let me know in the comments how this recipe turned out for you.